On our Journey to Balance, I hope that one thing you have learned is that you don't have to make the journey alone. It is crucial that you reach out for a hand, for help from those around you.
Keeping up the front that you are strong and can do it all by yourself isn't going to help your balance. And you don't have to prove anything to anybody.
If you are struggling, reach out.
And even during times you are feeling balanced, you still need to reach out. You need the loving connections of those who care about you. Having that relationship in place will make it much easier for you to reach out to help. Being open, transparent and vulnerable with those closest to you will make it obvious when your balance is slipping.
Circle of connections
Let me just say first of all, that I know that some of these relationships I am suggesting may be a major source of stress and anguish for you. If that is the case, that is not where I am suggesting you go for help. While the troubled relationships do need resolution, what I am talking about in this post is support.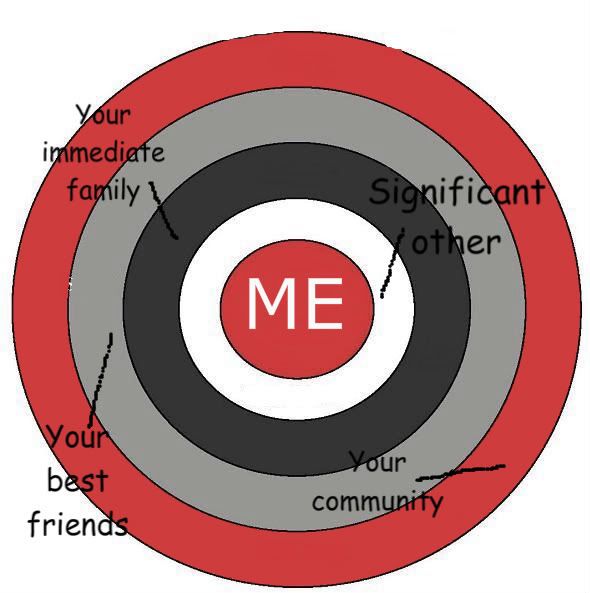 Starting from the inner circle-
Significant other- I would hope that your spouse or mate is a major source of support for you. Reach out to them! Find a time to sit quietly with them and explain how you are feeling. Try to work through what you need or expect from them. Maybe you just need them to know how you feel. Or maybe you need them to help in a major way. Have an idea in mind of what you are seeking.
Your immediate family- this may be your mother, your sister, your dad, you brother. In my case, my oldest daughter, who is only 16 years younger than me, is my best friend and understands me better than my husband sometimes! Reach out!
Your best friends- These are the men or women who stick close to you. I have heard them called "a friend that would help you move a body". Whatever you need, they would be there. These type of friendships don't come easy and if you have one, you are blessed. Just know that to make a friend, you have to be a friend! Reach out!
To people within groups that you are connected with locally, church, civic, on your job, etc- This next circle of people is where you build a safety net of friendly people you can connect with, perhaps for a common cause or goal. If you happen to be lacking in a circle of best friends, this would be the best place to start working to be a friend and gain some friends. Don't be afraid to REACH OUT!
I used to be connected through a homeschool organization and I had a lot of friends form there. I was also closely connected with a church for years and had good friends there. Now my kids no longer homeschool, and we switched churches. We have been working to find our place in ministry to volunteer, as well as joining a small group with 6 or 7 other couples roughly our age. This has enabled us to find some friends we can spend some time with and are getting closer and closer.
If your situation and circumstances have changed recently, and the result was a change in your social support system,
you need to work on rebuilding that, and seek out relationships to cultivate.
Download the Strengthening Connections worksheet for more ideas!
If you are just joining us on our 8 week Journey to Balance, you can catch up by clicking on the picture below: Be sure to subscribe so you don't miss out!

My goal is to reach and help as many people as possible with the 8 week Journey to Balance. Please share by clicking the buttons below to share by email, twitter, facebook, etc. Thank you for helping to spread the word!