As my regular readers will know, I attended a attended a blogging conference this past week in Nashville, TN. It was held at the Gaylord Opryland, which had been greatly damaged by floods last year. It was awesome that they were able to do repairs and get opened again. To see the place you would never know that it was under water less than a year ago!  There are still many areas of Nashville that have not been repaired or reopened, say a prayer for that area as it was a big blow to so many people.
Even though this post strays a bit from my usual topics, hang in there as there will be something you can use, I promise!
Be Authentic
The conference, Blissdom, was opened by a fantastic speaker by the name of Brene' Brown. I had heard Brene' late last year online, and her talk then had a huge impact on me. Needless to say, I was very excited to see her in person. Her talk will get its own post, but the big overall picture of it was to get to a place of authenticity. We all know that authenticity is huge in our blogging relationships, as well as in real life relationships.
There were some great workshops and breakout sessions where we learned so much about the ins and outs and how-to's of blogging, business, etc. Because each blogger has their own topic and their own specific twist on that topic, what we heard and learned can be implemented in so many different ways.
Be engaging
The closing keynote speaker was Scott Stratten, who is a marketer and speaker. I had also seen a video of him online late last year, and also touched me deeply. I had the privilege of talking to Scott personally while at Blissdom, as well as hearing him teach a breakout session on viral marketing. He shared some great stuff with us, as well as showed us his humorous side. If I could come away with one word from Scott, it would be engage.
As bloggers, and as a human beings, we need to be authentic and engage with those around us. Doing this will make us more fulfilled in our life, and help us to accomplish whatever we have deemed our mission in life to be.
Opportunities for change
And speaking of that, many of us are presented with awesome opportunities and chances for growth and change. Those of you who attended Blissdom went home with ideas racing around in your brain with things you could change and do and implement. With people you want to collaborate with, with companies you want to connect with. With ideas for entirely new blogs that you want to create.
As with many things in our lives, we have to make decisions. We CAN'T do everything. Some of us may try, but then you may end up with results you really weren't wanting, like a broken family or broken health.
Preparing for change
So what do you do with all these ideas? How DO you go about implementing change? (This applies to ALL things, not just writing blogs)
Brainstorm- write down every idea that comes to your head. You may need to set some time aside to do this. Get up a little earlier, stay up a little later.
Consider the cost- financially, as well as the impact of how much time you will have to invest as well as physical and mental energy.
The benefits- what are the benefits of implementing these new ideas? How will it affect those closest to you? Is it better for you family?
Weigh the benefits against the cost- Are the benefits going to be worth what it will cost you? Can you invest of yourself now and wait for the benefits to come at a later time?
What things have to change?- Usually if you are making a major change or adding something major to your life, something else of lesser importance may have to fall by the wayside. While many things in your life are important, some things were just meant to be for a season. It may BE time to give up the PTA, or coaching cheerleading, or even a job. Only YOU can make that decision.
Taking care of yourself
It is important that as you look to implement change in your life that you still take care of yourself. As a matter of fact, it becomes even more important than ever. Change, even good change, is stressful, so take care of yourself. Make sure you go back through the lessons so far and see where you may need to make some adjustments, and subscribe for future assignments and posts if you have not done so already.
If you are looking at making some changes to your life (or blog!) whether big or small, and want to share, I would love to hear what you are up to!
If you are a new visitor from Blissdom, I encourage you to participate in our 8 week Journey to Balance! It's FREE!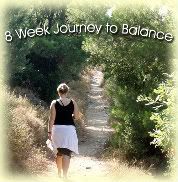 My goal is to reach and help as many people as possible with the 8 week Journey to Balance. Please share by clicking the buttons below to share by email, twitter, facebook, etc. Thank you for helping to spread the word!